In Touch Marketing
In Touch Marketing Corp works with you to communicate powerful messages. Using Promotional Products and related services, we supply solutions to your marketing, promotion, and recognition challenges. Connect directly with your customers, prospects, and employees.
Employee Incentives and Recognition
Branding - Executive Gifts - Trade Shows
Safety Programs - Eco Friendly
Featured Item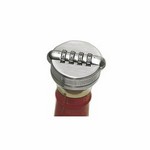 Solid Stainless Steel Combo Liquor/Wine ...
Perfect for securing premium wines and spirits. Locks up a bottle so that only the combination holder can reopen it. Instructions for using and changing the combo are included. 2 3/4" H x 2" Diameter
$15.10 - $18.49
Signature Showrooms